There are so many different craft and home decor ideas to make with wood beads. Let's check out a list of wood bead DIYs in this post!
Wood bead decor gives a neutral, organic, and simple look to a space. And there are so many ways to use them for decorations in your home.
And these DIYs are all budget-friendly, meaning you can use the same set of wood beads for multiple projects which makes it a win all around.
I love when I can reuse the same set of wood beads for many different crafts!
In this post we'll discuss a few of the ways that I've used wood beads to create DIY home decor. And I'll link back to the original post which will make it super easy to check them all out!
If you like one of these DIYs, be sure to Pin them for later as this post contains wood beads used for all different seasons!
This 30-inch farmhouse-style wood bead garland with jute twine tassels is simple to create and gives a neutral vibe for your shelf and tiered tray decor.
There are two styles contained in this post. One was created with all 20 mm wood beads, and one was made with both 20 mm and 10 mm wood beads.
There are also instructions on how to create a jute twine tassel for your garland.
One of the best parts is that you can use one set of wood beads from Amazon to create multiple projects from these posts! In each article, I list the number and size of beads needed for the home decor project.
This wood bead garland can be used for a Christmas tree or mantel and uses an alternating pattern of smallest (10 mm) to largest (20 mm) wood beads.
These can be made with loops on the end (to attach to your tree branches) or a tassel and fits in well with your farmhouse or rustic-style home decor.
They are so easy to paint or stain in different colors, but I think their natural color works well too. The jute twine is really simple to work with and gives a rustic vibe to your holiday space.
Not to be left out of the holiday celebrations, this wood heart and wood bead garland is simple and pretty. I write about two different colors and styles of twine in this post so definitely check them both out!
This Valentine's Day wood bead garland doesn't scream out "it's heart day" in reds, pinks, and sparkly decor. However, it does give your home a neutral, understated way to celebrate the holiday of love.
Next up, these holiday gnomes are a popular post, and guess what their noses are made of? Yep, you guessed it, a 14 mm wood bead!
These are both easy, no-sew gnomes and are made similarly. However, one is made with a mason jar and the other is crafted with a sock.
Be sure to check out this post for how I made this fluffy yarn beard for these neutral gray gnomes perfect for blending in with any decor!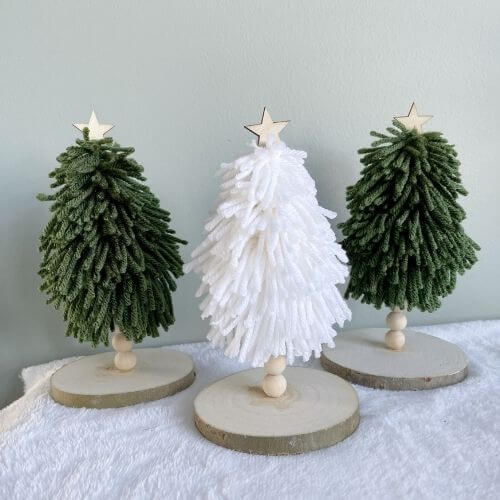 These cozy farmhouse-style trees are perfect for your Christmas decor and are simple plus budget-friendly to create. And the trunks are made from 14 mm wood beads and wood skewers.
This post also uses different styles and colors of yarn to create different looks. There are so many possibilities, and you can tailor them to your own home style and decor.
The next few posts on this list use 20 mm half-wood beads for some unique home decor. The best part is once you buy a set you can use that set to create so many different things!
This pretty, neutral Valentine's Day wreath DIY uses wood hearts, half-wood beads, and an embroidery hoop. This wreath can be made in different sizes depending on what size embroidery hoop you choose to buy.
This is a 10-inch embroidery hoop, and it blends in perfectly with any home decor for a simple and understated holiday wreath.
These two wood bead wreath DIYs use embroidery hoops, half-wood beads and hydrangea flowers to create cute floral wreaths for hanging inside or outside your home.
One of these wreaths is a larger 16-inch wreath and the other is a 10-inch wreath. They are both budget-friendly and most of the supplies are from Amazon and Hobby Lobby, one of my favorite craft stores!
For a bit of cozy farmhouse decor check out these no=sew yarn flowers with a half-wood bead in the center.
You can use any type of yarn for this neutral farmhouse DIY. This post examines different types of yarn that give a different look to each of your yarn flowers.
All types of yarn mentioned in the article were purchased from Walmart!
Final Thoughts for Our List of Neutral Wood Bead Decor
What I love most about this list of posts is that you can use the same set of wood beads for multiple crafts, which makes them so budget-friendly.
These natural wood beads are so versatile and neutral, which helps them blend in with all types of decor.
Plus, they are super easy to create, so be sure to give a few a try! And if you have any questions just let me know!
So, which one of these wood bead DIYs was your favorite? 🙂 Tell me down in the comments!
And be sure to Pin for later since some of these crafts are seasonal! Happy crafting, all!
This list of DIYs using wood beads and half wood beads are natural and versatile to blend in with all types of decor…be sure to try a few!