Do you like yarn and flowers like I do? Well, this craft should be a favorite then. Let's do a yarn flower DIY for your rustic farmhouse decor!
I love yarn. I may have been a seamstress in a past life or something. 😉 My mom did teach me to crochet when I was little so maybe that's what instilled it in me. Do you love yarn too?
Is it the coziness, or the texture, or maybe the homeyness of yarn? Or maybe all three?
Typically, here on the blog, I make things with yarn that don't require any sort of sewing skills.
And today is no exception. I'm excited to share with you a neutral yarn flower DIY.
Since spring is gradually approaching here in the northeast, I figure now is a good time to craft these farmhouse-style inspired flowers. And it's super easy…let me show you how!
Grab Your Farmhouse Flower Supplies
This post contains affiliate links. As an Amazon Associate, I earn from qualifying purchases. This means when you click a link, I may earn a small commission at no cost to you. This helps me to run this website. Thanks in advance for your support!
***Note***Just a thought…If you sign up for my newsletter at the bottom of this post, I will send you a quick email when new posts come out! And since I re-use extra supplies in many of my DIYs I will tip you off as to which posts have them!
Wrap Twine Around Bamboo Skewer for Flower Stem
First, secure the jute twine at the blunt end of your skewer with some mod podge. You may have to hold it on there for a few seconds until it adheres.
Next, apply mod podge a little way up your skewer as shown below in the pictures. You then will start to wrap your jute twine around and around the skewer.
It makes it easier if you just twirl the skewer in your hands, and gradually wrap the twine up the skewer.
Work in small sections, applying the glue, wrapping, and then applying more glue.
When you've reached the point where you're just about 2 inches from the end of the skewer, then you want to create somewhat of a twine ball, if you will.
At that point wrap the twine around the same area again and again applying glue as you go. When you're happy with the size of the twine ball (this will hold your yarn pom-pom) then simply snip the twine and glue the end down.
The finished flower stem should look something like this…pics of the process are below.
Create Your Yarn Pom-Pom for Rustic Flower Petals
I used one of my cardboard pom-pom forms from my yarn tree post to make these. If you haven't checked out that tutorial the link is here…yarn tree tutorial.
The cardboard I used measured 4 inches in width, and I simply cut a slit in the center for tying the pom-pom.
Start wrapping your yarn around the cardboard about 25 times. I tried out different thicknesses including 20, 25, 30 and 45 wraps and liked 25 the best for this thicker Hometown yarn. If you have thinner yarn, it may be better to wrap it 45 times instead though!
Then use another piece of the same yarn and using the slit to get it around the yarn ball, tie your pom-pom tightly in the middle.
This is where it's not really going to be a true pom-pom however! Instead of cutting it to create the pom-pom, just slide it off and leave it the way it is!
Sort of spread it out so that there aren't any gaps in the yarn. This will make up our rustic flower petals.
Place Neutral Yarn Flower Petals on Skewer
Now comes the fun part! Take your twined skewer and poke the yarn pom-pom onto the skewer. You can vary the angle to allow the flower heads to tilt some, which aids in displaying your farmhouse flowers in a vase.
Clip the skewer with your wire cutters or sharp scissors so that it is flush with the yarn.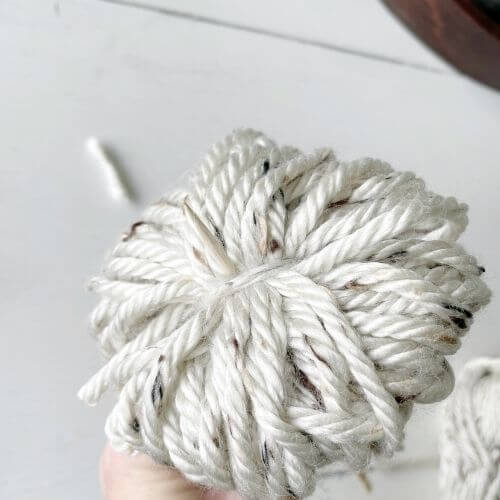 Hot Glue Half Wood Bead to Yarn Flower Petals
Get out your trusty glue gun and heat it up. You want to place a dab (a smaller dab will do; I went a little crazy with the hot glue there) 😉 of hot glue onto the area where your skewer end is.
Now take the half wood bead and place it on the glue making the center portion of your farmhouse flower.
So easy-peasy am I right?
I tried out a few versions of different types of yarn, all found at Walmart. Here are the different looks. Don't these just cry out neutral farmhouse-style decor for spring and summer?
Shown above are Bernat Blanket yarn, Hometown yarn and Red Heart yarn, all from Walmart and a comparison of the flowers made from them. The first two thicker yarns were made from about 25 loops, and the last thinner yarn flower was made from 45 loops.
Optional Step- Add Burlap Leaves to Jute Stem
Just one more thing! An optional step is to cut out some leaf shapes from burlap.
Then using your hot glue gun, adhere them to your jute twine flower stems.
Burlap is definitely another one of my favorite crafting supplies!
Finishing Up Cozy Yarn Flower DIY Tutorial
For the smaller versions, I used the same process as noted above. However, my cardboard was cut down to 2.5 inches and I used around 10 loops for each! 🙂 I also cut down some of my stems with the wire cutters so that the flowers weren't all the same length.
Sooooo which yarn was your favorite look for this neutral rustic decor?
Mine had to be the Hometown multi-colored beige and teal ones that I picked up at Walmart. So many great yarn choices there.
I thought this was a super easy craft to do, and as I am a lover of flowers and plants it was right up my alley!
So, tell me which yarn was your favorite? And do you think this is a farmhouse look you'd like to display in your own home? Tell me down in the comments 🙂
Now, grab your yarn, twine and skewers. Oh and don't forget the wood beads. Let's craft some yarn flowers for your neutral farmhouse decor!
Pin me on Pinterest! ⬇️