These pretty and neutral-inspired DIY wreaths are all made using Dollar Tree wreath forms. Whenever possible, I try to use materials including floral, rope and jute wire, also from Dollar Tree. This makes it simple to obtain all the supplies for these easy to make wreaths ideas.
If there's one location, I stop at frequently I'd have to say it's Dollar Tree. I love that all the supplies that I grab for wreath making are only $1.25 and you can find really pretty floral there.
The store is also a great place to find super cool wire forms for wreaths. In fact, my bicycle wheel wreath is one of my most popular posts to date. All because I made a quick stop in Dollar Tree on my way home one day!
These wreaths are usually neutral inspired because I like a clean and simple look. That way they can blend with any decor style. However, there is a bit of color in the patriotic wreath DIY post just to mix things up a bit.
They also tend to lend themselves to a more farmhouse or rustic vibe, since I like to use natural textures and fibers such as cotton rope, jute wire, and burlap in my wreaths.
Really the best part about these DIY wreaths is that they are all budget friendly. So, you can make a pretty wreath for your front door without it costing a fortune.
Okay, enough talk about Dollar Tree and all this styling stuff. 😉
Here's the list of Dollar Tree DIY wreath ideas. I hope you love 'em!
Pin me to save this post on Pinterest so you can easily refer back to it when you're looking for seasonal wreath ideas! ⬇️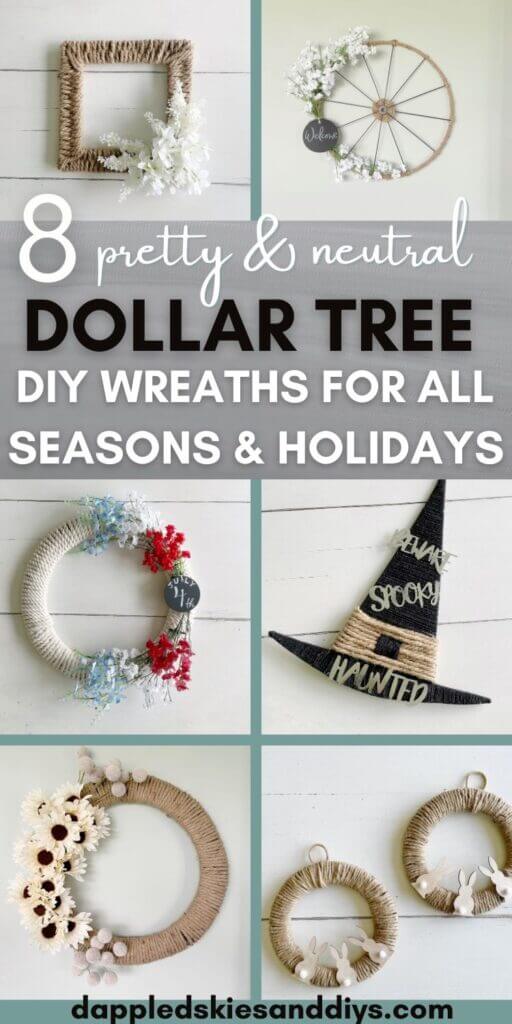 Dollar Tree Wreath Form Ideas
List of DIY Dollar Tree wreaths for all occasions and seasons, here we come!
Just click on the title of your favorite wreath and the link will take you right to the post and tutorial!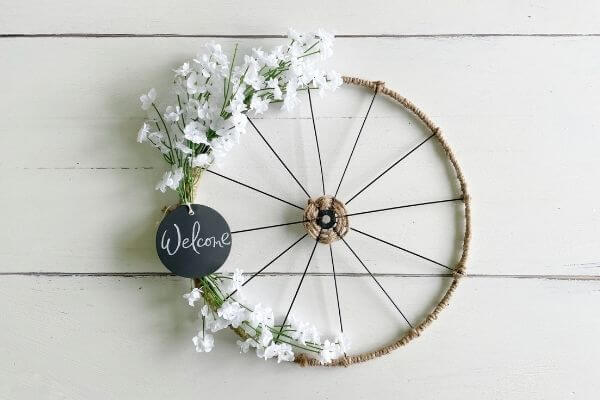 This bicycle wheel wreath is a one of my most popular posts. I love the look of woods and whites. This wreath lends itself to that choice of color combos with the white baby's breath floral and the jute wire.
This one is perfect for summer or spring front door decor or hanging in your home on a wall or frame.
You don't even need a glue gun for this one. That jute wire holds the floral in place so well, you just need wire cutters and scissors on hand to make this farmhouse style wreath.
And all the wreath supplies are from Dollar Tree, so it's a one stop shop for this pretty and neutral bicycle wheel wreath DIY!
This sunflower and billy ball wreath with jute rope looks pretty for your fall and even summertime decor.
This is an 18-inch wire wreath form, so it makes a statement on the front door, and the sunflowers are a pretty, muted shade of yellow.
All the supplies for this neutral fall wreath were found at Dollar Tree. All you'll need to have on hand are a glue gun, scissors and wire cutters.
Just wait til you see how I worked out those dang corners on this one!
This neutral jute and floral wreath did turn out to be one of my favorites in the end because it's sort of an unconventional wreath idea being that it's square. But those corners! 😉
And lilacs and hydrangeas are two of my favorite flowers so when I found these at the Dollar Tree, I couldn't help but pick them up.
Definitely a post to check out for your spring and summer decor!
Ok next let's talk about some fun holiday wreath ideas. I have a few more in the works right now, and those will be coming soon to this post. So be sure to pin this for later!
See I told you I'd add a little color to this wreath list post!
This floral patriotic wreath DIY is made using all Dollar Tree supplies and all you'll need to have on hand is a glue gun and scissors.
When I found those pretty blue Larkspur flowers at the store, I had to work them into some sort of DIY. And the July 4th holiday was coming up.
I found red and white baby's breath and paired them up with the Larkspur floral along with some cotton rope. Easy peasy to make too!
This wreath would also work for Memorial Day or anytime you want to display patriotic decor. Just change out the writing on the chalkboard tag to say "USA" or a patriotic phrase of your choosing!
If you like to wrap yarn and rope, then this cute and neutral-inspired Halloween wreath will be right up your alley!
All it takes is black yarn, rope and pretty metal letters and you'll have a spooky wreath perfect for your Halloween decor.
And a bonus is that all the supplies come in under 7 dollars making this wreath super budget-friendly, and all you'll need on hand are scissors and a glue gun!
These cute bunny wreaths were made using a 2-pack of 8-inch wreaths from Dollar Tree are perfect for neutral spring and Easter decor.
Both wreaths can be made for under 15 dollars and all you'll need on hand is a glue gun and wire cutters.
I really like the little bunny wood cut-outs with pom-pom tails, and they are created with jute wire hanging loops so they can easily be hung together indoors on a wall or inside a frame.
Definitely an easy project and one to save to add to your Easter decor!
The wreaths listed above used all Dollar Tree supplies, but the next two kicked in some burlap that I purchased from Walmart. Still hanging in there with the budget friendly theme though, because the next ones are super inexpensive too!
This Valentine's Day wreath is made with a heart wire form from the Dollar Tree.
The white burlap that makes up the bulk of this wreath is from Walmart, along with the two different kinds of pink and brown ribbon to add a little color.
All in all, the wreath supplies come in under 10 dollars. And all you'll need are scissors and a tape measure to create this neutral and pretty farmhouse style wreath.
This was one of my first DIY Dollar Tree wreaths and kind of the one that started it all. It was such a popular post that I went on to make a lot more of them as you can see.
The shamrock wire form I purchased at the Dollar Tree, and I already had the brown burlap on hand.
The green burlap I found at Walmart, to make the wreath a little more festive for St. Patrick's Day. As my kid bluntly stated, shamrocks aren't brown. 😉
However, this year I didn't see this wire form on the Dollar Tree website (insert sad face), but a few of my readers did find them in their local stores.
So, I wanted to include it since I still love it and am really hoping that they'll bring it back to their website in the future! 🤞 (I'm looking at you Dollar Tree).
Final Thoughts on this List of DIY Dollar Tree Wreaths
So, which of these unique and simple DIY Dollar Tree wreaths is your favorite?
I feel like the best part of this list post is that all of these wreaths are super budget-friendly! And all the wire wreath forms used to make them can be found at Dollar Tree.
Usually, the only supplies you will need to have on hand are a glue gun, wire cutters and scissors which most crafty people seem to have at their homes already.
Which is also a win because then you'll only need to purchase the wreath supplies.
And, as always, thanks so much for reading!
Next time you're out grab your Dollar Tree supplies like floral, rope and a wire wreath form and craft your own seasonal or holiday DIY wreath!
There are more DIY Dollar Tree wreath ideas on the way so be sure to save this pin to Pinterest! ⬇️