Let's create this neutral Dollar Tree fall wreath DIY today. All supplies are from the Dollar Tree and all you'll need are scissors, wire cutters, and a glue gun!
Fall is one of my favorite times of the year. Although I do love the carefree, schedule-free days of summer, the return to clear, crisp days gets me every time.
Beautiful leaves, cool mornings, pumpkins, soups, hot tea, and campfires, just to name a few of the things I love about the autumn season.
Finding fall items at the Dollar Tree is another one of my favorite things to do. In the floral section, I found sunflowers and billy balls with neutral autumn colors.
I also found an 18-inch circular wreath form and rope in a pretty brown color and decided to put all of these items together to create a fall front door wreath.
Read on fellow lovers of fall for the quick and easy Dollar Tree fall wreath tutorial. The pic below is what we are aiming for! 😉
Supplies for Dollar Tree Fall Wreath DIY
This post contains affiliate links. As an Amazon Associate, I earn from qualifying purchases. This means when you click a link, I may earn a small commission at no cost to you. This helps me to run this website. Thanks in advance for your support!
3 Sunflower Floral Stems
4 Billy Balls
18-inch wreath form
9.5-foot Rope – 9 strands
Glue Gun and glue sticks
Scissors
Wire Cutters (like mine)
And these are all the supplies you will need. All are from Dollar Tree except the scissors, glue gun, and wire cutters. And a lot of you probably have a glue gun and scissors already on hand!
Clip Leaves from Sunflower and Billy Ball Stems
I clipped the leaves off of the sunflower and billy ball stems using a pair of scissors.
No need to make sure that the bases of the leaves are clipped off too. Your rope will hide the little bumps left over on the billy ball stems.
Position Sunflower Floral Stems on Dollar Tree Wreath Form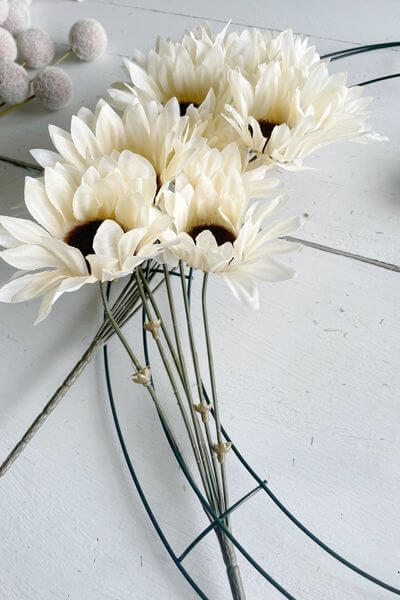 First, bend the sunflower faces until they are facing toward the front, instead of upward.
Position two of the sunflower stems on your wire wreath form, then hot glue them in place as shown.
Securing them with the hot glue stabilizes them so that it's easier to wrap the rope.
Hot Glue Rope and Then Begin Wrapping Around Wire Wreath Form
First, at the back of your wire form, secure the beginning of your rope end to itself using hot glue. Then begin wrapping it around your wreath form.
You'll need to wrap it through your sunflower floral as shown above on the right. This helps to secure your sunflower stems to the wreath. Use the wire cutters to trim any excess stem piece that is sticking out.
Now add your 3rd sunflower stem to the form. You'll need to clip the stem off with wire cutters. Make sure it is placed where you want it, and then hot glue the stem to the wreath form.
My first rope strand ended in the above-left picture, so I hot glued it to itself to keep it from unraveling. Then, start your next strand by hot gluing it to the previous rope strand.
Continue wrapping your rope around and around, weaving it in and out between the floral stems, and securing the sunflower stems to the wire wreath form.
Add the Billy Ball Stems to Your Fall Wreath from Dollar Tree
Clip excess stem off your billy ball florals using wire cutters.
When you get your sunflower floral wrapped up the whole way, then there will be a pocket or hole where the rope has been wrapped around the wire form.
Shove two billy ball stems into this pocket and secure them with the hot glue. I used two at the top portion of my wreath and two at the bottom portion.
Be sure to make sure they are where you want them in proportion to where the sunflowers are, before applying your glue.
Continue wrapping the rope around the Dollar Tree wreath form and weave it through the billy ball branches as shown above.
This is how this neutral sunflower and billy ball fall wreath was shaping up so far.
Finish Up Your DIY Fall Wreath from Dollar Tree Items
Wrap the rope around the remainder of the wreath form. When one strand runs out, then secure the next strand to it with hot glue and continue with your wrapping.
This was the end of the last rope strand. I tucked it into the wreath as shown on the above left.
Then I hot glued it to the rope in the back as shown in the above right.
And this Dollar Tree fall wreath DIY is finished! Phew! That's a lot of wrapping!
Final Thoughts on this Neutral Dollar Tree Fall Wreath Tutorial
So, this is a rather large 18-inch wreath form, and all the Dollar Tree items in total cost me $21.25. That's for 17 Dollar Tree items at $1.25 a piece not including tax.
Not too shabby since this wreath is a large one!
I really like how the sunflowers and billy balls go so well together to create this pretty fall wreath. The Dollar Tree has some great stuff!
I saw a few other fall-related items at the Dollar Tree the other day including pinecones and cattails, that you could substitute for the billy balls if you wanted to.
All in all, this is a pretty quick and easy neutral fall wreath DIY that makes a statement, perfect for your front door.
Related Posts for Farmhouse-Style Dollar Tree Wreath DIY
Now let's get our fall decor together beginning with this affordable and pretty neutral fall wreath DIY made with Dollar Tree items!
Pin me to save this idea for later!
Sign up below for my email list and you'll get more budget-friendly DIYs delivered right to your inbox!